Similar to the three steps used in identifying and estimating the number of ILRs within each HLR, the testable requirements (TRs) are identified and estimated per ILR. In the Planning and Design phases of a project, the TRs are usually estimated since they generally cannot be identified and counted until late in Design or during the Development phase. Given the number of ILRs, it is possible to estimate TRs by approximating the number of TRs per ILR on average.
ILR Decomposition to TRs
During the requirement decomposition, the
ILRs
can be further broken down until, after usually 3 or 4 levels, the requirements are testable. Testable requirements are precise, unambiguous and no longer divisible. This process is illustrated in Figure 9.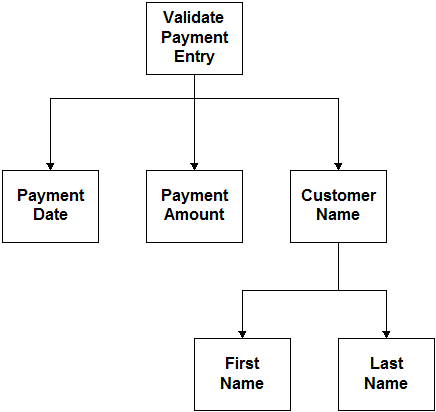 Testable Requirements Decomposition
Figure 9
Testable requirements are by definition at the lowest level. Testable requirements are data input or display fields, edits, window attributes, database attributes, widgets, etc.
Usually, a sizing of the project is needed before the requirement decomposition is complete. Therefore, to the extent that each ILR has not been broken down at the time the sizing is performed, the number of TRs must be estimated.
Estimating TRs per ILR
To complete the sizing estimate, the average number of TRs for each ILR is estimated. One approach is to decompose a known part of the system and apply these counts to other ILRs. Another technique to approximate TRs per ILR is to count data items associated with the ILR, such as the number of objects on a window or the number of fields on a report. Note that once the number of TRs is estimated based on data items, it can also be factored based on requirement complexity, risk or possibly other factors that may lead to an estimate that is understated. Usually the number of data items estimate is factored by 1 to 2 (a factor of 1 would be used if there were no factors indicating excessive complexity or understatement of requirements). Regardless of the technique used to obtain the estimate, it is important to
document the assumptions
and methods used in determining the estimate.
Project the Total TRs
Once the number of TRs per ILR has been estimated, the projected number of ILRs can be multiplied by this number to project the total TRs for the ILR. The
Requirements Sizing Matrix
is used to summarize the estimates.